André Gonçalves, P
Live-Media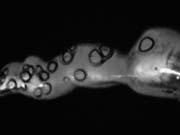 www.undotw.org

André Gonçalves, Lisbon based sound and media artist. SInce 1998 he has been working in several artistic fields that include painting, music, video, installation and performance. Empathy programmer with googlian self-education, he has been developing several audio-video applications in max-msp, flash, java, processing and C++ along with various experiments in the analog world. From 2002 on, he was always getting closer to 'do it yourself' electronics, experimenting with sensor interfaces and programming. More recently he has been collecting and recycling found electronic hardware, hacking it to make possible the idea to create analog devices that can act like bots with specific functions such as printing, drawing, tv graphics, sound creation, etc. These actions are orchestrated by PIC micro-controllers, small computer processors that can be programmed to control multiple devices.


The new project presented at Netmage 10 involves a super 8 projector and a Doepfer analogue modular synthesizer. The super 8 projector was hacked so that the amplitude of the sound played controls the intensity of the light bulb with a manual control for the speed of the projector flickering, allowing real-time destruction of the projected images. The performance develops in several stages, with different burning processes and sound approaches.
André Gonçalves, artista cross-mediale basato a Lisbona, muove i suoi primi passi come programmatore autodidatta concentrandosi sulla sperimentazione digitale e creando applicazioni audiovisuali con max-msp, java e C++. Nel 2002 si concentra sulla filosofia del 'do it yourself' che lo conduce alla realizzazione di svariati strumenti elettrici ed elettronici re-impiegando ogni sorta di tecnologia hardware e software.


Il progetto che presenta a Netmage 10 prevede l'utilizzo di un synth analogico e di un proiettore super8. Il proiettore è stato modificato di modo tale che l'intensità del suono sia in grado di influenzare direttamente la potenza di emissione luminosa della proiezione; un controller manuale del flickering completa il dispositivo consentendone un uso performativo. La scelta di suoni scientemente distorti è in stretta relazione con la distruzione fisica, in tempo reale, del film proiettato. La performance si sviluppa in diverse sezioni coincidenti con differenti processi di bruciatura delle diapositive 35mm caricate sul super8, come espressione visuale dei diversi approcci sonori dispiegati lungo l'arco del live.