Lee Hangjun/Hong Chulki, KR
The Cracked Share + Nebula Rising
Live-Media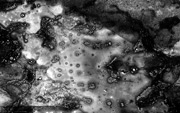 www.hangjunlee.com
www.balloonnneedle.com
The Cracked Share is seized in moments of visual detachment during periods of emotional contact, in which the images are oxidized residues of fixed light and chemical elements of transformed from living organisms. No plastic expression can ever be more than a residue of the experience. The event is like the undisturbed ashes of an object consumed by flames, an evocation of conflict between the organic and the geometric. In this organic manipulation, the sense of visual rhythm is well paced, and the footage of the Astronauts / Pornographic actor / Horse is wonderfully imaginative and fluid: an ocular alkahest, that reminds of moderns' efforts to rediscover the integrity of the primordial.

Nebula Rising is a 35 mm live-media based on the contrast between liquid forms and 'linear' forms. Within each of the segments, Lee Hangjun and Hong Chulki try to create a skillfully attenuated contrast between biomorphic forms and geometric forms, as a remarkable polyphony. The overall form articulates a crescendo, building to a passage whose intense reds and a depth effect (involving the interaction of photographed forms and hand-processing artifacts) is utterly extraordinary.
Lee Hangjun is an experimental film artist from Seoul, Korea. He collects film footage and does chemical work to oxidize emulsion on the film surface. He also does contact printing work by copying film to blank film to create distorted images. His performances are shown by multiple projection with at least two analogue projectors in various places such as galleries and theaters. His latest work Cracked Share and Metaphysics of Sound are distributed by Lightcone, an experimental distributor in France. He teaches in workshops at Space Cell processing lab and is an editor at N'avant, an experimental film magazine. He is publishing a book about Carl E. Brown, a Canadian experimental film artist, and organizing an exhibition of his works in Korea.
Hong Chulki lives in Seoul, South Korea. In 1996 he formed the band Mani Mukgo Himne. Into guitar noise and feedback, he brought up the idea of forming a noise project with Choi Joonyong. In the early days of Astronoise, Chulki played guitar making only howling feedback sound. Now he uses turntables, mixers, broken MD players, laptop, CD players. Still, it's all about feedback and amplification. When Astronoise's first demo tape Feedback Composition No.1 came out, he also released Lightyear, his solo guitar soundscapes. He has also led bands including Puredigitalsilence and Automatic Hand-dryer. He currently performs as a member of Astronoise, Seoul Frequency Group as well as solo.
He has released three solo albums (including one
web release).
The Cracked Share è una doppia proiezione 16mm scandita in una serie di stacchi visuali, nelle fasi periodiche di un contatto emotivo nelle quali le immagini ossidano il residuo del fissaggio degli elementi chimici e delle trasformazioni di organismi viventi. Non vi è espressione artistica che rappresenti altro se non il residuo di un'esperienza. L'evento è quindi le ceneri indisturbate di un oggetto consumato dalle fiamme, l'evocazione del conflitto tra organico e geometrico. In questa manipolazione organica, il senso del ritmo visivo è nettamente scandito e le figure dell'astronauta/porno-star/cavallo ne emergono meravigliosamente fluide e immaginifiche: come una 'acqua regia' - solvente universale della tradizione alchemica - che rievoca lo sforzo moderno della riscoperta dell'integrità primordiale.
Nebula Rising è un live-media in 35mm, costruito sul contrasto tra forme liquide e forme lineari. All'interno di ogni sezione Lee Hangjun e Hong Chulki cercano di attenuare il contrasto tra bio-morfismo e geometria componendo una sapiente polifonia. L'insieme delle forme articolano un crescendo in cui il passaggio tre le intensità dei rossi e l'effetto di profondità raggiunge una straordinaria unità.
Lee Hangjun, cineasta sperimentale coreano, lavora attraverso processi di ossidazione e manipolazione chimica dei supporti di film trovati (found footage). Realizza inoltre stampe a contatto di singoli fotogrammi su supporti vergini per ottenere immagini distorte degli originali, rimontandole nei suoi lavori, come per i recenti Cracked Share e Metaphysics of Sound. I suoi live-media si sviluppano normalmente in composizioni multischermiche installate in teatri e gallerie d'arte.
È insegnante, teorico e curatore del mondo della cinematografia sperimentale coreana e internazionale.
Hong Chulki, musicista coreano, fonda nel 1996 i Mani Mukgo Himne. A partire da un uso rumoristico della chitarra imperniato sull'utilizzo di feedback, sviluppa un progetto assieme a Choi Joonyong, negli stessi anni in cui uscivano gli Astronoise. Comincia quindi ad utilizzare piatti, mixer, lettori minidisk rotti, e computer, sempre all'interno del campo della ricerca sui feedback amplificati. Parallelamente all'uscita del primo demo Feedback Composition No.1, realizza il lavoro in solo Lightyear.
È membro degli Astronise e dei Seul Frequency Group.