My Cat Is An Alien, I
Light_Earth_Blue_Silver
Live-Media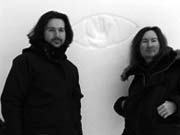 My Cat Is An Alien (MCIAA) is the audiovisual improv duo formed in late 1997 by the brothers Maurizio and Roberto Opalio from Torino. They primarily play electric and acoustic guitars, voice, toy microphones, various toy instruments, electronics and percussion. Roberto Opalio and MCIAA's work range over many artistic activities: musical performance, films and videos, audiovisual installations, photography, painting and drawing, poetry. On their own Opax Records, they release vinyls, tapes, cds and dvds, whose unique handmade art-edition style represents the esthetics of the duo, giving a strong and peculiar visual aspect to all MCIAA's artistic works. MCIAA have set up multimedia collaborations with vanguards such as Sonic Youth, Thurston Moore, Lee Ranaldo, Christian Marclay, Keiji Haino, Jim O'Rourke, Loren Mazzacane Connors, Jackie-O Motherfucker, Nels Cline, Text of Light, Steve Roden, Mats Gustafsson, Enore Zaffiri and many more. MCIAA's prolific works (more than hundred works) have been released by Thurston Moore (Sonic Youth) on his own Ecstatic Peace! label, as well as by Staalplaat/ Mort Aux Vaches (NL), Starlight Furniture Co./ Revolver (USA) and many others. Roberto Opalio and My Cat Is An Alien are currently taking part to the ongoing Sonic Youth etc.: Sensational Fix museum exhibition, scheduled in Europe, America and Asia for the next three years.

At Netmage My Cat Is An Alien will present a special live performance as a soundtrack to the dual film by Roberto Opalio entitled Light_Earth_Blue_Silver. The film was shot entirely on 8mm in 2005 at a remote location in the western Alps. Final editing was done in 2008, with the addition of an original soundtrack by the duo (the definitive version, released in a CD/DVD set in 2009 by american label Atavistic and presented at the Netwerk Center for Contemporary Art in Aalst). For the film, Roberto Opalio has created and utilized a two meter high Alien wire figure, a possible symbol of existential transfiguration of the last human being on Earth. The film shows the Alien's psychic and existential voyage along a mountain path where snow, rocks, fir and pine branches articulate his access to Heaven.
My Cat Is An Alien (MCIAA) è il duo formato nel 1997 dai fratelli torinesi Maurizio e Roberto Opalio. I MCIAA utilizzano principalmente chitarre elettriche e acustiche, voce, percussioni, e una vasta gamma di strumenti, microfoni e pistole spaziali giocattolo che contraddistinguono il loro suono e caratterizzano visivamente le loro performance live di composizione istantanea radicale. Il lavoro di Roberto Opalio e dei MCIAA si caratterizza per la molteplicità dell'espressione artistica, che include, appunto, performance musicali, film e video, installazioni, fotografia, pittura e disegno, poesia. Sulla propria etichetta Opax Records, i MCIAA licenziano edizioni artistiche private privilegiando supporti quali vinile, acetati incisi a mano, cassette, cd e dvd, il cui stile inconfondibile caratterizza l'estetica del duo, attribuendo un forte e peculiare aspetto visivo a tutte le loro produzioni musicali. I MCIAA hanno avuto collaborazioni con artisti chiave della scena d'avanguardia tra cui Sonic Youth, Keiji Haino, Christian Marclay, Thurston Moore, Jim O'Rourke, Lee Ranaldo, Loren Mazzacane Connors, Jackie-O Motherfucker, Text of Light, Steve Roden, Enore Zaffiri. La loro imponente discografia include un centinaio di album pubblicati dalle etichette discografiche più prestigiose della scena indipendente internazionale, a partire dal debutto sull'Ecstatic Peace di Thurston Moore dei Sonic Youth, sino agli ultimi lavori usciti su Staalplaat/ Mort Aux Vaches (NL) e Starlight Furniture Co./ Revolver (USA). Nel 2009 MCIAA hanno inoltre firmato per la Atavistic Worldwide. Roberto Opalio e i MCIAA sono attualmente presenti nella rosa degli artisti selezionati per la mostra itinerante Sonic Youth etc.: Sensational Fix, in programma nei musei di Europa, America e Asia a partire dal 2008 fino al 2011.
A Netmage i My Cat Is An Alien presentano una speciale performance dal vivo come colonna sonora del dual film di Roberto Opalio intitolato Light_Earth_Blue_Silver. Il film è stato girato interamente su nastri 8mm nel 2005 in una remota location delle Alpi occidentali. L'editing finale è stato eseguito nel 2008, con l'aggiunta di una colonna sonora originale del duo (è questa la versione definitiva che è stata pubblicata in un CD/DVD set nel 2009 dall'etichetta americana Atavistic, e presentata al Netwerk Center for Contemporary Art ad Aalst). Per il film Roberto Opalio ha creato e utilizzato una figura in filo di ferro alta due metri con le sembianze dell'Alieno, simbolo possibile della trasfigurazione esistenziale dell'ultimo essere umano sulla Terra. Il film mostra il viaggio psichico ed esistenziale dell'Alieno lungo un sentiero di montagna, dove neve, rocce, abeti e rami di pino scandiscono la sua ascesa al cielo.