Nana April Jun, S
Live-Media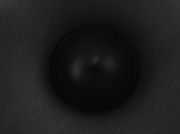 Nana April Jun is an alias of Christofer Lämgren, visual artist, composer and art magazine editor/curator (YKKY) based in Gothenburg, Sweden. The Ontology Of Noise (Touch) is his first album and seems to research the possibile dark associations of the heritage of black metal. No traditional instruments are used on the album and all techniques are digital in their application. There are almost no arrangements or layers, but the pieces consist of single streams which change intuitively, making The Ontology Of Noise a concrete journey through an abstract language evolving around light and darkness.
Nana April Jun is certainly not the first one to follow this course, but the compositional rigor that gives form to his project is reflected in his hypnotic live work: completely immersed in obscurity, above all unusual, he explores the filmic qualities of noise, the image-creating mechanisms that arise almost hallucinogenically from subtle variations of frequencies. A Nana April Jun live opens up an auditory perception for these natural sounds and, paradoxally, asks questions about their nature.
Nana April Jun è lo pseudonimo di Christofer Lämgren, artista visivo, compositore e curatore/editore del magazine d'arte YKKY, basato a Gothenburg, Svezia. The Ontology Of Noise, uscito sull'etichetta Touch, è il suo primo album e sembra ricercare possibili associazioni della tradizione black metal. In realtà nessuno strumento tradizionale è stato utilizzato nella realizzazione dell'album, che si può considerare fra i primi capostipiti di una generazione che si allontana definitivamente, e forse per sempre, da una scuola, per aprire verso nuove ipotesi attraverso il digitale.
Nana April Jun non è certamente il primo ad aver intrapreso questa strada, ma il rigore compositivo con cui dà forma al suo progetto e che riprende nei suoi ipnotici live completamente immersi nell'oscurità, è senz'altro inusuale. Nana tenta di inseguire le qualità cinematiche del noise, esplorando i meccanismi potenzialmente visuali che si annidano dietro le più sottili variazioni di frequenze.